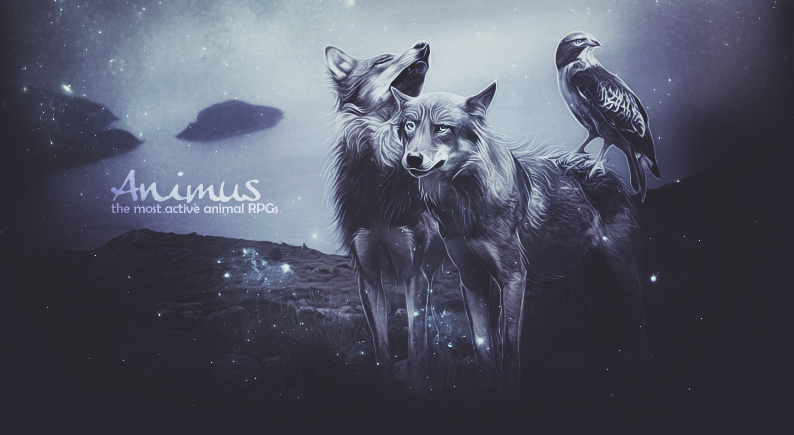 Welcome to Animus Top 50 Animal RPG's!

Find and list canine, feline, equine, dragon, shape-shifter, fantasy creature and other animal themed play-by-post forums here. Animus resets our in/out rankings each month to make sure that our top-ranked RPG's are actually active, so that players can find somewhere worth joining. Ratings and comments last forever! Hopefully we could help you find what you're looking for, and thank you for visiting!
Rules & Info: Newly submitted sites should appear within thirty minutes of submission. Make sure our button is visible so that your members can find it to vote for you. Using this listing to target other sites will not be tolerated (this includes leaving excessively numerous poor ratings for other sites, using profanity in comments, and similar behavior) and those who do so will be subject to having their comments removed and their IP addresses banned without warning. Duplicate listings, Long-dead sites, sites that don't fit our theme, sites with adult content, and sites that use scripts to track clicks to topsites will be subject to deactivation without warning. If you can no longer access your listing or have other questions/comments, please contact wolfofwinter1[at]gmail[dot]com.
Rank
Site
Rating
In
Out
276

Hallow Sins



10.00
0
0

Hallow Sins is a literate, moderate to advanced fantasy equine RPG now accepting new members. We have a variety of lands, kingdoms, and magic to roleplay, and a relaxed, open atmosphere.


277

Eleventh Hour



7.53
0
0

Eleventh Hour is a post-Firestar, literate and traditional Warriors roleplay, set in an alternate universe in the new lake territories. Featuring the four Clans that we've all come to know and love,


278

Natural Life



1.00
0
0

An animal shape-shifting roleplay site located in the fictional town of Northwood, Montana. The struggle between shifters and chasers is a never ending battle.


279

Shadelings



10.00
0
0

Shadelings is a dragon rider academy roleplay set in an original world. Choose from eleven humanoid races and fourteen (and counting!) dragon species for your characters!


280

Animorphs: The RP



NR
0
1
In this AU Animorphs Roleplay, the Animorphs are college age students. They still have to fight the Yeerks, and controllers are still everywhere. Anyone could be a controller- even you. They need help. Whether you fight for or against the Yeerks, you are


281

Yavania



9.14
0
0

We are a magical animal roleplay, with dozens of free-to-play species, a unique magic system, free-form clan creation, lots of buy-ables, plenty of IC and OC events, and a welcoming community!


282

The Corazon Pack



3.71
0
0

The corazon has two packs. One good, one evil. The evil is planning on over throwing the good. But another pack rises out of the dust. Who will survive? Who will win?


283

eien



1.00
0
0

Brave the lands of Eien, a fantasy-based intermediate/advanced RP featuring player or site events. Friendly and active!



284

Austere



1.00
0
0

Austere is a literate, elemental lion rpg which takes place in a Nordic like landscape.


285

Fractured Image



5.50
0
0

New and upcoming semi-lit fantasy wolf rpg. Lots of open territories and a stat/dice system completely unique to any other forum of it's time.


286

Belligerence



8.03
0
1

A new intermediate to advanced semi-realistic wild horse rpg. Experienced members & staff, easy character form. no sample post required, monthly contests, active, mature, and friendly community.


287

Wolves of Yellowstone



1.00
0
0

Wolves of Yellowstone is a semi-realistic wolf role-play based in the Yellowstone National Park. The plot is simple: Join a pack, create a family, and play your role in helping your pack to thrive!


288

Solari



6.75
0
1

Welcome to Solari, a semi-fantasy wolf and human rpg dabbling into shifting figures, human occultism, theology tales of demons and angels along with member written horror.


289

Grass Beneath My Paws



9.50
0
1

The fight between the two species was silenced as the Gods shook the earth, making the land beneath their paws crumble. All is at peace.. But, for how long? Tensions are rising.

Realistic&Advanced |


290

Savagery RPG



8.98
0
1

A fantasy wolf RPG focused around five primordial elements as they rage across the land. Master the arts and claim your fate!


Page:
1
2
3
4
5
6
7
8
9
10
11
[12]
Last Update: Fri, 02.21.20 10:25
Next Update: Fri, 02.21.20 10:55
Next Reset: Thu, 03.19.20 23:26
Sites: 290
Powered By GoTop100.com