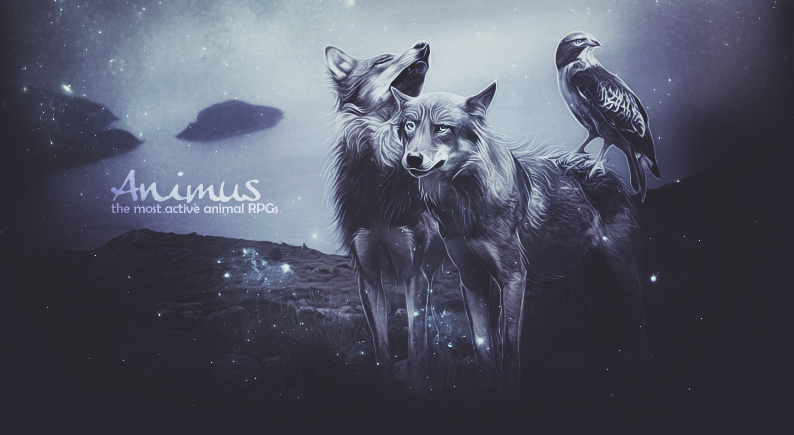 Welcome to Animus Top 50 Animal RPG's!

Find and list canine, feline, equine, dragon, shape-shifter, fantasy creature and other animal themed play-by-post forums here. Animus resets our in/out rankings each month to make sure that our top-ranked RPG's are actually active, so that players can find somewhere worth joining. Ratings and comments last forever! Hopefully we could help you find what you're looking for, and thank you for visiting!
Rules & Info: Newly submitted sites should appear within thirty minutes of submission. Make sure our button is visible so that your members can find it to vote for you. Using this listing to target other sites will not be tolerated (this includes leaving excessively numerous poor ratings for other sites, using profanity in comments, and similar behavior) and those who do so will be subject to having their comments removed and their IP addresses banned without warning. Duplicate listings, Long-dead sites, sites that don't fit our theme, sites with adult content, and sites that use scripts to track clicks to topsites will be subject to deactivation without warning. If you can no longer access your listing or have other questions/comments, please contact wolfofwinter1[at]gmail[dot]com.
Rank
Site
Rating
In
Out
276

Blood Bound



1.00
0
0
When humans are wiped from the face of the plant and only animals remain, who will win? Wolves have been thriving for over a year now since the destruction and are getting more venturous than ever.


277

Grass Beneath My Paws



9.50
0
1

The fight between the two species was silenced as the Gods shook the earth, making the land beneath their paws crumble. All is at peace.. But, for how long? Tensions are rising.

Realistic&Advanced |


278

Vors



7.75
0
0

Welcome to Vors, a big cat role play based on the continent of Africa, but not completely. There are no specific locations in Africa that are stated. We allow panthers, leopards, jaguars, lions, and t


279

Aiyanna's Wishes



1.00
0
0

free-reign fantasy wolf rpg with daemons


280

Para Bellum



4.00
0
0
We are a semi-literate, post-apocalyptic wolf/coyote/fox/lynx/etc roleplay set in North America! Brand new, we are looking for members to come join us in getting our site off the ground! The humans have all vanished, leaving the stronger species to surviv


281

Binary



5.33
0
0

Binary is a fantasy wolf roleplay that incorporates many science fiction elements. It takes place in a digital world known as the Database, and a virus is running rampant, threatening everything.


282

Astoalla



7.50
0
2

Astoalla is a semi-realistic feline rpg! We focus on a friendly and fair community. We offer a variety of felines to create as well as over 40 places for roleplaying. Come chat with us!


283

Solari



6.75
0
1

Welcome to Solari, a semi-fantasy wolf and human rpg dabbling into shifting figures, human occultism, theology tales of demons and angels along with member written horror.


284

Beautiful Creatures



1.00
0
0
BC is a recreated semi realistic multi animal rp in need of members. Play as your favorite animal, fight for territory and just live your life! Staff spots are open, join us today!


Page:
1
2
3
4
5
6
7
8
9
10
11
[12]
Last Update: Thu, 05.23.19 3:25
Next Update: Thu, 05.23.19 3:55
Next Reset: Fri, 05.24.19 18:25
Sites: 284
Powered By GoTop100.com