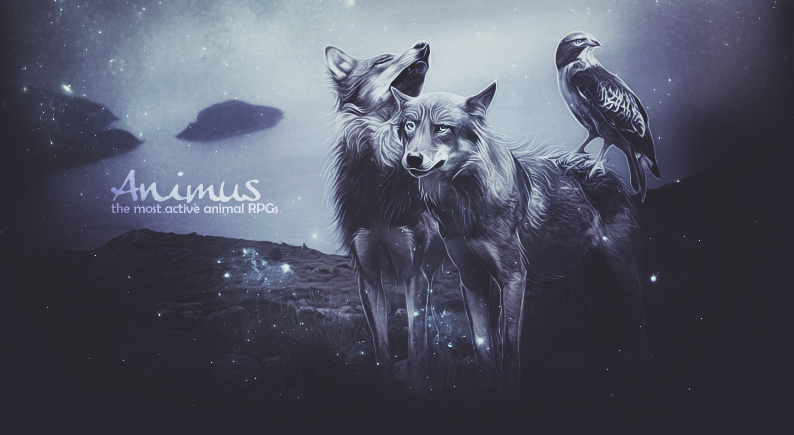 Welcome to Animus Top 50 Animal RPG's!

Find and list canine, feline, equine, dragon, shape-shifter, fantasy creature and other animal themed play-by-post forums here. Animus resets our in/out rankings each month to make sure that our top-ranked RPG's are actually active, so that players can find somewhere worth joining. Ratings and comments last forever! Hopefully we could help you find what you're looking for, and thank you for visiting!
Rules & Info: Newly submitted sites should appear within thirty minutes of submission. Make sure our button is visible so that your members can find it to vote for you. Using this listing to target other sites will not be tolerated (this includes leaving excessively numerous poor ratings for other sites, using profanity in comments, and similar behavior) and those who do so will be subject to having their comments removed and their IP addresses banned without warning. Duplicate listings, Long-dead sites, sites that don't fit our theme, sites with adult content, and sites that use scripts to track clicks to topsites will be subject to deactivation without warning. If you can no longer access your listing or have other questions/comments, please contact wolfofwinter1[at]gmail[dot]com.
Rank
Site
Rating
In
Out
251

Solari



6.75
0
0

Welcome to Solari, a semi-fantasy wolf and human rpg dabbling into shifting figures, human occultism, theology tales of demons and angels along with member written horror.


252

Gone to the Dogs



1.00
0
0

Gone to the Dogs is an all canine role-play with no character limit and a 250 word count. We have 7+ free lands to role-play in and currently one pack to join!


253

Risking it All



4.71
0
0

A member-driven feral dog RPG that is very active and set in Cascaro, Maine. Come join the fun!


254

Lies in the Low



6.40
0
1

Active Warrior Cats role play site based on the books by Erin Hunters. Literate, non-canon with a new location, new desert group and stat system.


255

Anea



NR
0
0
An all animal RP recently opened which needs some love. Al species are welcome and for now all levels. We are slowly turning into a fantasy RPG as powers are supposed to soon be added. :):):):)


256

Dominus



1.00
0
0

Dominus is a play-by-post, elemental, liquid time, present day, post-apocalyptic wolf roleplay. As a unique, friendly wolf roleplay, we have nearly everything... except you!


257

Akrasia



8.64
0
2

Active community. Fantasy wolf roleplay with unique species and creative plot. Welcome to a world where immortals fall and guardians reign!


258

All or Nothing



1.00
0
0

a brand new canine roleplay come check us out!


259

Gravity



NR
0
0

a brand new equine site where you can choose your side: rebel or join and get wealth and power. come join us


260

Cats of Gatapolis



5.50
0
0

A new twist on a big cat society rp with plenty of possibilities and adventures.


261

Alcryst



7.00
0
0

We are a horse/human RPG where you can easily keep the species separate or chaotically combine them to suit your preference. Join us today!


262

Glass Wire Kites



5.50
0
0

The Great Plague killed off everything. The world was empty. Then the wolves rose up from the shadows. One god, one devil. Free-reign, post-apoc, realistic to fantasy wolf RPG!


263

Verenhukka



4.38
0
0

A mid-apocalyptic semi-realistic wolf RPG forum for intermediate and advanced players! Real-time, high-content and heavy-posting. 10x a month @ 300 words per post.


264

Legends of Atraxia



5.50
0
1

We are a Lion RPG; simple. To the point. We are set in a place not unlike the Great Rift Valley. We aspire to inspire, to hone and nurture creativity. Focused on writing quality, and not quantity. A c


265

Test of Faith: Unique Fantasy Horse RP



1.00
0
0




266

Ravensvair



7.75
0
0

All are welcome at Ravensvair: a semi-realistic wolf rpg with a history. With origins steeped in tradition, the new wolves of Ravensvair must pick up the pieces following a great rebellion.



Page:
1
2
3
4
5
6
7
8
9
10
[11]
Last Update: Sun, 06.24.18 0:25
Next Update: Sun, 06.24.18 0:55
Next Reset: Thu, 06.28.18 10:25
Sites: 266
Powered By GoTop100.com