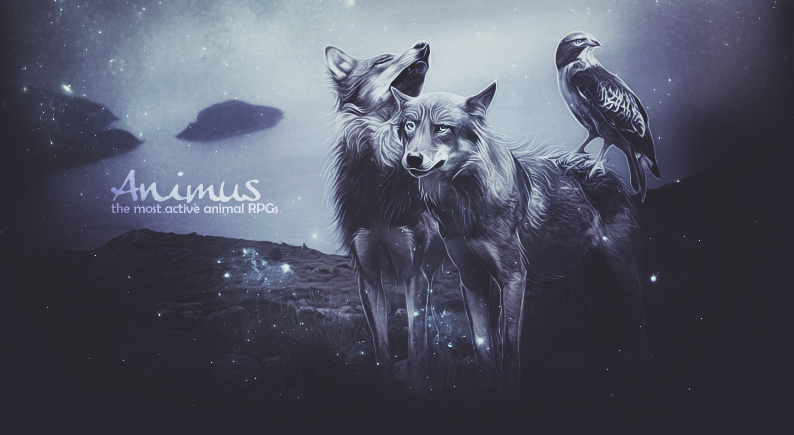 Welcome to Animus Top 50 Animal RPG's!

Find and list canine, feline, equine, dragon, shape-shifter, fantasy creature and other animal themed play-by-post forums here. Animus resets our in/out rankings each month to make sure that our top-ranked RPG's are actually active, so that players can find somewhere worth joining. Ratings and comments last forever! Hopefully we could help you find what you're looking for, and thank you for visiting!
Rules & Info: Newly submitted sites should appear within thirty minutes of submission. Make sure our button is visible so that your members can find it to vote for you. Using this listing to target other sites will not be tolerated (this includes leaving excessively numerous poor ratings for other sites, using profanity in comments, and similar behavior) and those who do so will be subject to having their comments removed and their IP addresses banned without warning. Duplicate listings, Long-dead sites, sites that don't fit our theme, sites with adult content, and sites that use scripts to track clicks to topsites will be subject to deactivation without warning. If you can no longer access your listing or have other questions/comments, please contact wolfofwinter1[at]gmail[dot]com.
Rank
Site
Rating
In
Out
251

Belligerence



8.03
0
1

A new intermediate to advanced semi-realistic wild horse rpg. Experienced members & staff, easy character form. no sample post required, monthly contests, active, mature, and friendly community.


252

Grass Beneath My Paws



9.50
0
0

The fight between the two species was silenced as the Gods shook the earth, making the land beneath their paws crumble. All is at peace.. But, for how long? Tensions are rising.

Realistic&Advanced |


253

Wolves of Yellowstone



1.00
0
1

Wolves of Yellowstone is a semi-realistic wolf role-play based in the Yellowstone National Park. The plot is simple: Join a pack, create a family, and play your role in helping your pack to thrive!


254

Cats of Gatapolis



5.50
0
1

A new twist on a big cat society rp with plenty of possibilities and adventures.


255

Beautiful Creatures



3.50
0
1

We all have our beauty, we just show it in different ways. War is going on between the animal kingdoms, some fighting for land and food, others for gold and much more. We are new and growing, active a


256

Dominus



1.00
0
1

Dominus is a play-by-post, elemental, liquid time, present day, post-apocalyptic wolf roleplay. As a unique, friendly wolf roleplay, we have nearly everything... except you!


257

Silver Legacy



1.00
0
2

Silver Legacy is an intermediate level paragraph style role play forum with a unique spin on the legend of the werewolf. We're set in a vibrant and dangerous landscape, with an old Norse village full


258

Golden Oaks Academy



2.00
0
1

The school has been put under a strange amount of pressure by outside forces over the years, arousing suspicion in both law enforcement and baffling local Foxford citizens, strange cries at night, fir


259

The Dwellers



1.00
0
1
The Dwellers is an all level, post-apoc, semi-realistic, wolf role-play site. We recently opened our doors so come stop in and say hi!


260

Broken Reality



5.33
0
1

The Inferno pack, a pack of bad wolves, and the Locus Pack, a pack of good wolves, rule the lands. Which side will you join? [Semi-Fantasy | Active | High positions available]


261

Wolves of Sikhote Alin



4.00
0
0

In the primitive wilderness of the Sikhote-Alin Reserve in Primorsky Krai, Russia, wolves are a scarcity. Most have fallen victim to tigers. Will you join a new generation of wolves, and rise?


Page:
1
2
3
4
5
6
7
8
9
10
[11]
Last Update: Thu, 03.22.18 13:25
Next Update: Thu, 03.22.18 13:55
Next Reset: Fri, 03.30.18 8:25
Sites: 261
Powered By GoTop100.com